LACT is an intervention center specializing in the transformation and management of crisis situations, particularly with COVID-19. LACT supports you in improving the quality of life at work . Experts in solving complex problems , we intervene face-to-face or live online. Since 2014, we have been the leading organization for web training and systemic and strategic remote intervention in partnership with the University of Paris 8 and the MRI of Palo Alto.
Discover the support and training solutions adapted to your needs.

October 17, 2023 from 6:30 p.m. to 8:3 p.m.0
MEET US!
Come and discover our training courses in strategic systemic approach, hypnosis and systemic coaching. You will meet trainers from the University of Paris 8 and be able to talk with them!
Key performance indicators

---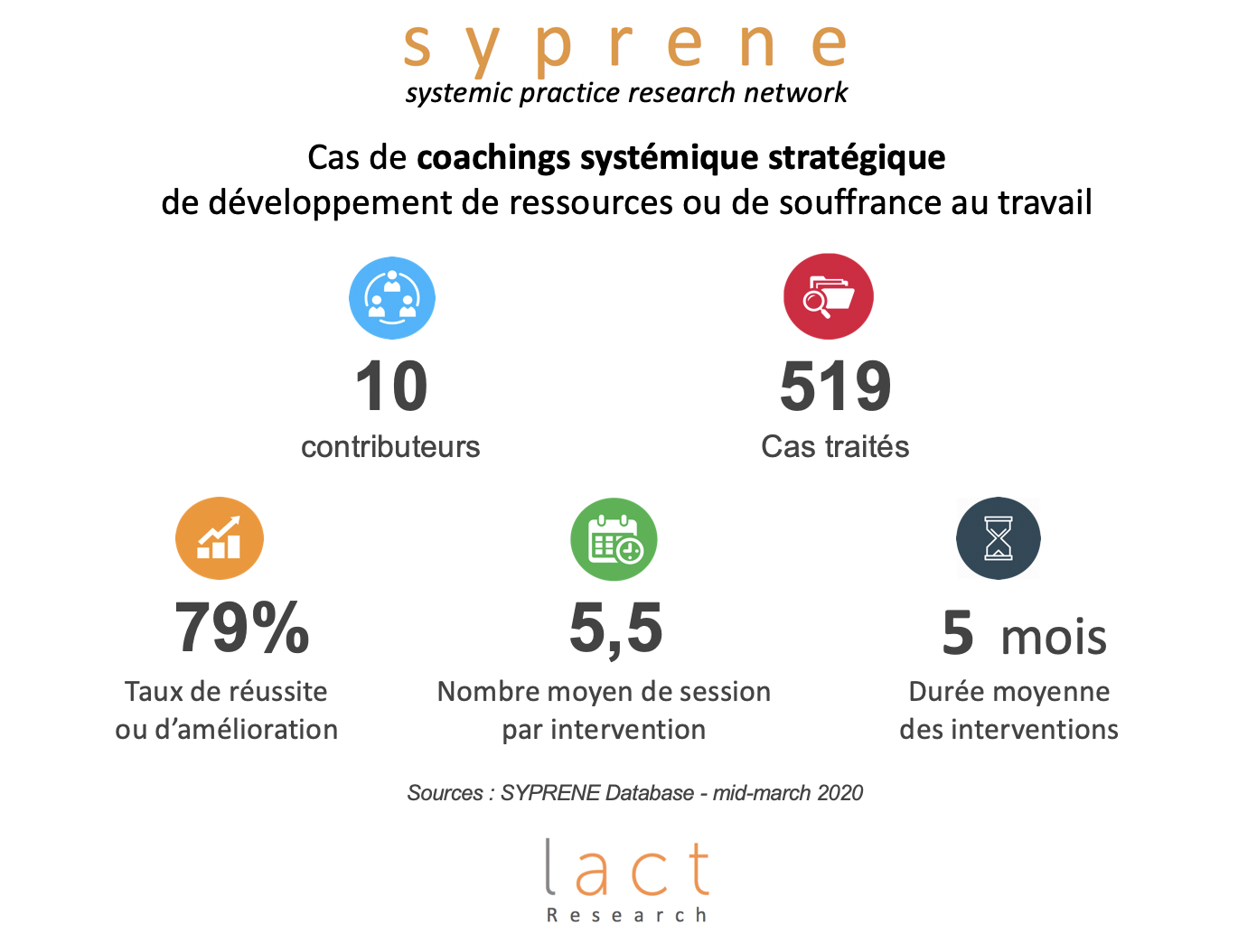 COMPANIES:
Media / Communication

: Canal + /

Orange /

Le Monde / EDF /

Télérama / Courrier International / Huffington post / Le Nouvel Observateur /

Warner

/ Yahoo

/ Vivendi / iTunes / Pathé-Gaumont

/ France Telecom


Luxury

social links

: Hermès / Roger Dubuis / Richemont /

Louis Vuitton

/ Chloé




Industry

: Naval / Latécoère / Apple Altran /

Pasteur Merrieux /

/ Orkyn / Danone / Eau de Paris /

Road Safety / Hays / Europages / UTP / APSYS




/ Groupe Perrier

/ Nexter

/ SNCF / Thomson / RATP


Bank - Insurance

: Banque Générale du Commerce / Banque Maritime / Caisse d'Epargne / Mutex / MNT / MNHN / Mutualité Sociale Agricole

/




Institutions

: DILA (1st Minister)

/ BPI / Ministry of Equipment, Transport and Tourism / CCI of Rouen, Paris

/ National Center for Public and Territorial Service


Distribution

: Promodes

/ Sport 2000

/ Aquamarine / ESAT de Alberti / Itema srl ​​(Italy) / Elis / ANPAA /


Education

: EM Lyon / IMT / Centrale Paris / ESCP / ND Grandch




amps
HEALTH: Saint Antoine Hospital / Tenon / Rotschild / La Roche Guyon / Trousseau (Paris APHP) / Pitié-Salpétrière Hospital / Hôtel-Dieu Hospital (Paris APHP) / Georges Pompidou European Hospital (Paris APHP) / Saint-Quentin Hospital (02) / Versailles (78) / Intercommunal Hospital Centers of Annemasse-Bonneville (74) / Cadillac-sur-Garonne (33) / Dunkirk Hospital Center (59) / Mantes la Jolie (78) / Dinard (35) / The Railway workers from Draveil (91) / Rouffach (68) / Tournon sur Rhône (07) / Public Mental Health Establishment Lille Métropole (59) / Nord 92 de Villeneuve la Garenne (92) / St Brieuc (22) / Metropolitan Hospital (New -York) / Westmidtown Medical Group (New York) / Association for the Use of the Artificial Kidney (AURA) Paris / Clinique Arago Paris (75) / Polyclinic of Wisdom of Dinan (22) / Center Hospitalier Intercommunal Robert Ballanger (93)
CITIES, DEPARTMENTS & REGIONS: Paris (75) / Arcueil (94) / Champigny (94) / Alpes Maritimes General Council (06) / Seine et Marne General Council (77) / Seine Saint Denis General Council (93) / Council General du Var (83) / Les Pavillons-sous-Bois (93) / Le Perreux (94) / Rungis (92) / Meudon (92) / Rueil-Malmaison (92) / Saint-Denis (93) / Saint-Ouen (93) / Sevran (93) / Val de Reuil (27) / Vitry-sur-Seine (94)