"What are we treating?

We not only take care of the relationship with the product, but we also take care of the relationship with others, the relationship with time, the relationship with the body, and all that of course requires time and a lot of support. » Dr. Mario Blaise
Systemic approaches are particularly effective in cases of addiction with a significant improvement in 79% of cases (including 30% of situations resolved and 49% improved) over an average of 6.1 sessions and a treatment duration of 5.8 months (Vitry et al., 2023). But if these results highlight a clear reduction in the duration of the treatment which leads to a reduction of the costs in terms of suffering and follow-up, these approaches are still little proposed.
In this book bringing together texts related to the conferences conducted by the LACT Research and Training Center in collaboration with the University of Paris 8 from 2019 to 2022, doctors, addictologists, psychologists, practitioners and systemicists from all over the world invite us to come back to their experience and their practice.
Can we speak of an addictogenic society? At what point in life does consumption become a problem? How has the vision of addiction evolved? Is it still perceived as a disease or a shameful behavior? How to deal with new addictions? What are the consequences of addictions for families? How do systemic approaches address all of these issues today?  
A real plea for a systemic approach to the treatment of addictions including the family, the environment, employment, the root causes of addictions. Because treating addictions is not only treating a pathology, it is treating the relationship to the product, the relationship to the body, the relationship to oneself and to the other, the relationship to time. It is treating "an inability to adapt" of which alcohol dependence is only a symptom according to Gregory Bateson.
Grégoire VITRY
is a doctor-researcher in psychology, a systemic therapist specializing in addictions.
He is the director and co-founder of the LACT research and training center, a partner of the University of Paris 8 and at the initiative of these conferences.
The authors
:
Julia Alperovich, Alexandrina Beau, Claudia Black, Mario Blaise, Georges Brousse, Jean-Pierre Couteron, Christophe Cutarella, Jean-Michel Delile, Nathalie Duriez, Éric Hispard, Grégory Lambrette, Geert Lefevere, William Lowenstein, Alain Morel, Matteo Papantuono, Claudette Portelli, Claude de Scorraille, Géraldine Talbot, Andrew Tatarsky, Grégoire Vitry.
Under the dir.
by G. Vitry: Understanding and treating addictions with systemic approaches
, Dunod, 2023.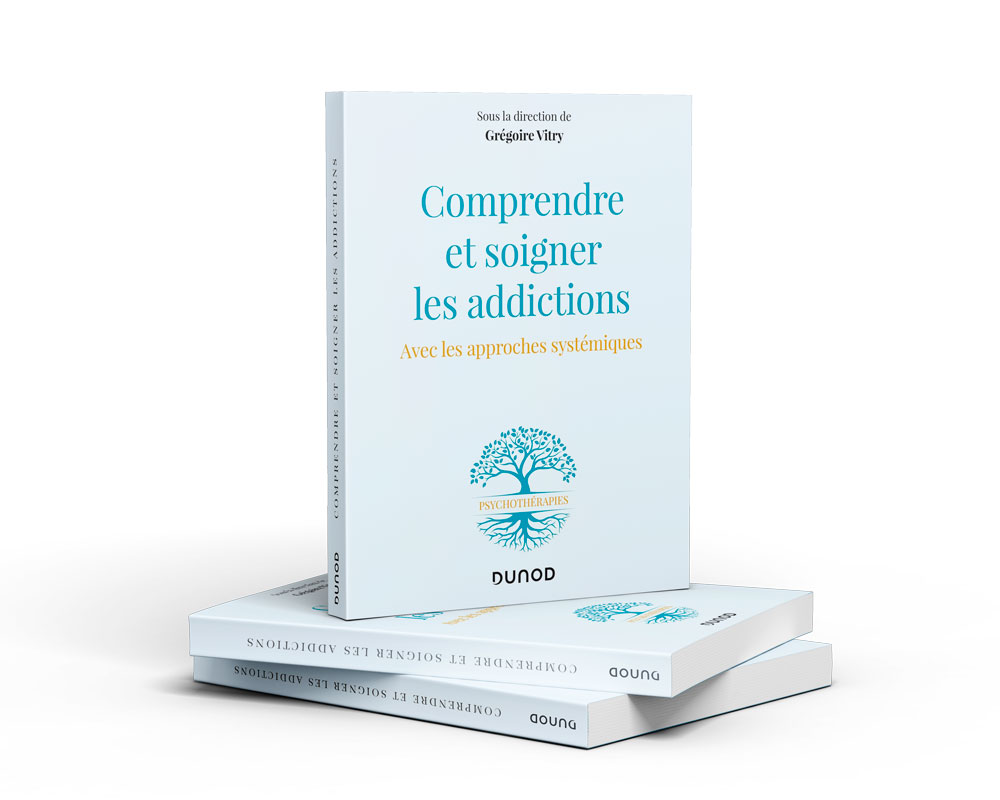 Understanding and treating addictions with systemic approaches
Contents of the book
PART ONE: ADDICTION AND SOCIETY
Jean-Michel Delile: The origins of addiction
Jean-Pierre Couteron: Addiction and Society
William Lowenstein: So what? 
Nathalie Duriez: New addictions and psycho-societal mutations 
Jean-Michel Delile: Screens and online gambling: a new challenge! 
Grégory Lambrette: An anthropology of addiction: reading addiction to light
contributions from Gregory Bateson
Jean-Michel Delile: Biopsychosocial approach to addictions 

PART TWO: PSYCHOPATHOLOGY AND ADDICTION
Éric Hispard: Intervene on addictions in all directions
Georges Brousse: Psychiatric disorders and alcohol
Mario Blaise: Principles of use of pharmacological treatments in addiction
Claudette Portelli and Matteo Papantuono: The new addictions
PART THREE: FAMILY AND ADDICTION
Claudia Black: Impact of trauma in families affected by addiction 
Nathalie Duriez: Separation, addictive behaviors and ambiguous loss
Alexandrina Beau: Case study of an addiction situation
PART FOUR: THERAPEUTIC APPROACHES
Christophe Cutarella: Motivational interviewing
Geert Lefevere: The solution-oriented approach applied to chronic addictions
Julia Alperovich: Addiction treatment in the United States
William Lowenstein: Decoding addiction with SHAPAS
Géraldine Talbot: Harm reduction and alcohol
Andrew Tatarsky: Treating Addictive Behaviors with Integrative Risk Reduction Psychotherapy
Mario Blaise: The Clinic of Paradox in the Treatment of Addictions
Claudette Portelli and Matteo Papantuono: Strategic approach and addictions
Grégory Lambrette: Pragmatic study of a systemic and strategic intervention around a case of alcohol addiction 
Grégoire Vitry and Claude de Scorraille: Practices and efficiency of the systemic and strategic approach in alcohol use disorders
See as well 
Understanding and treating addictions with systemic approaches 
Addictions: where to consult?
LACT offers consultations in a systemic approach specialized in the treatment of addictions in person or remotely. 
See as well 
Read also about work addiction