LACT assistance©: the psychological action solution
Consultations with our Firm can be done on a case-by-case basis to solve a specific and urgent problem and in this case we make an estimate.
Or, they are done within the framework of a subscription including a certain number of sessions and relying on a tool: it is our Lact Assistance device.
The issues entrusted to us are:
Self-related : malaise, stress, burnout, post-traumatic syndrome……
Related to others : harassment, ability to say no, conflicts…..
Related to the organization : change, authority, collective work, teamwork, moving……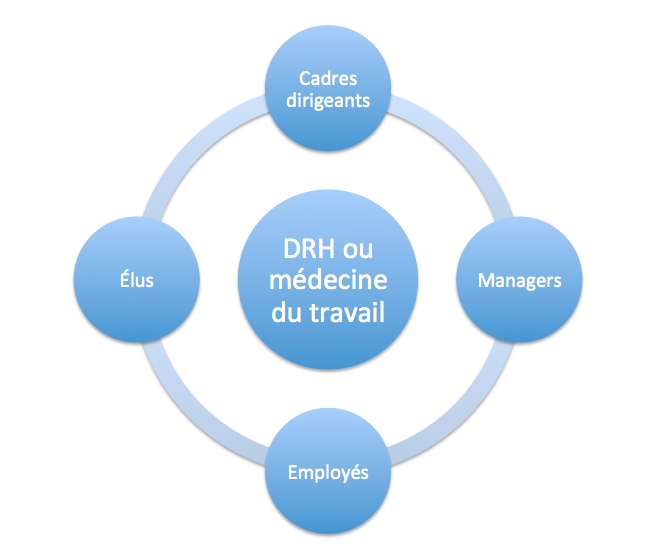 Once the contract has been set up, we can intervene either for a consultation, or for a diagnosis, for a supervision of those in charge (HRD, managers, departments) who need support to deal with the problem that arises for them or finally by setting up on-the-spot interventions individually or collectively according to the degree of urgency. 
In this LACT Assistance system, occupational health managers are particularly involved in the success of the system . Indeed, when a problem arises in an organization, when an employee is in bad shape, he contacts either the occupational physician or the HRD.
Employees can call directly via a telephone number given to them.
What are the interventions requested by the companies?
setting up a collective session for exchange and sharing
On-site interventions to ensure individual psychological permanence
either via our psychological support number 09 67 01 21 65

We enter information related to appointments, basic information (date, place, function, reason, etc.) but also substantive qualitative information, the objective being at the end of each year to make a very complete restitution of the all consultations with management. This therefore involves questionnaires that we complete at each appointment.
These forms, once completed, give the company the possibility of having an overall view and of setting up one or more training plans or, where appropriate, the prevention of psychosocial risks.
Restitution
Restitution takes place within the framework of an exchange meeting based on non-nominative qualitative and quantitative information, at the end of each exercise. Presented to the management, it gives an overall idea of ​​the company's social climate and allows them to become aware of the needs for training, actions, changes in the organization, even orientation in the professions.


The different phases of setting up and using the device
A framing phase
A dimension of prevention
Methodological assistance from the firm
Supervision of cases presented by managers, HRDs or occupational physicians
Opinions and diagnoses for one or more employees
Support for the person(s) concerned, either at the firm or remotely
A qualitative and quantitative restitution  
How does the initial information about health problems at work go back?
It is possible that the HRD receives the complaint directly;
there may be a dedicated telephone number in the company, but employees often do not use it because they fear a lack of discretion or prefer to discuss their difficulties face to face. The employee's line manager may also be required to call the HR department himself The information can be transmitted by the occupational doctor
Finally, in certain cases, it is the employee himself who manifests himself
The LACT methodology and its application through the device and the tool
The device: Ask yourself first about the problem to avoid getting into something vague
Identify the type of emotion induced or inferred
Help the HR department to ask questions in an interactional way
See how to help the manager or the employee or the person from whom the complaint emanates
Define keywords
Clearly identify all the people involved  
The tool allows:
to identify in a global way the nature of the relational problems of the company  
to see how long these problems have been solved
who are the prescribers with whom these problems arise: hierarchy for example, or managers intuitu personae, collaborators among themselves, opinion leaders, etc.
whether the overall risk in the company is low, serious or very serious,
in short, to take the measure of the risk what type of prevention must be put in place what action plan on PSR should be considered  
In summary, it is a complete support system for companies to:
that they provide the best answers
that they gain in efficiency in the treatment of PSR
that they have a global vision of the occupational health of their employees
that in the end, they increase their economic and social performance